VR is a topic that was considered the next big thing for a long time but has not yet caught on for various reasons. With the HTRC Vive XR Elite, that could change.
The HTC Vive XR Elite is a standalone device. And that makes them really interesting. You don't need any external sensors and you can get started right away. You don't need a cable to the player and that means freedom of movement. It also offers a mixed reality mode. Reason enough to take a closer look at the new device.
To start with, the Vive XR is a lot of fun.
The lenses each have a resolution of 2K. That gives a really good overall impression. Items no longer appear jerky and choppy. That's the way it has to be. Good news for all spectacle wearers: the diopter value can be conveniently adjusted for each lens with a wheel. However, the graphics are not the decisive element, which really got me excited. Of course, VR games are fun. But VR is a very isolating element. After all, you are alone. I really like the mixed reality mode. You see your surroundings and the elements from the Vive XR apps are projected. When we tested the Vive in 2017, we often ran into a wall in the heat of the moment, or the outstretched arm with the controller just barely missed the face of colleagues. The danger is averted here.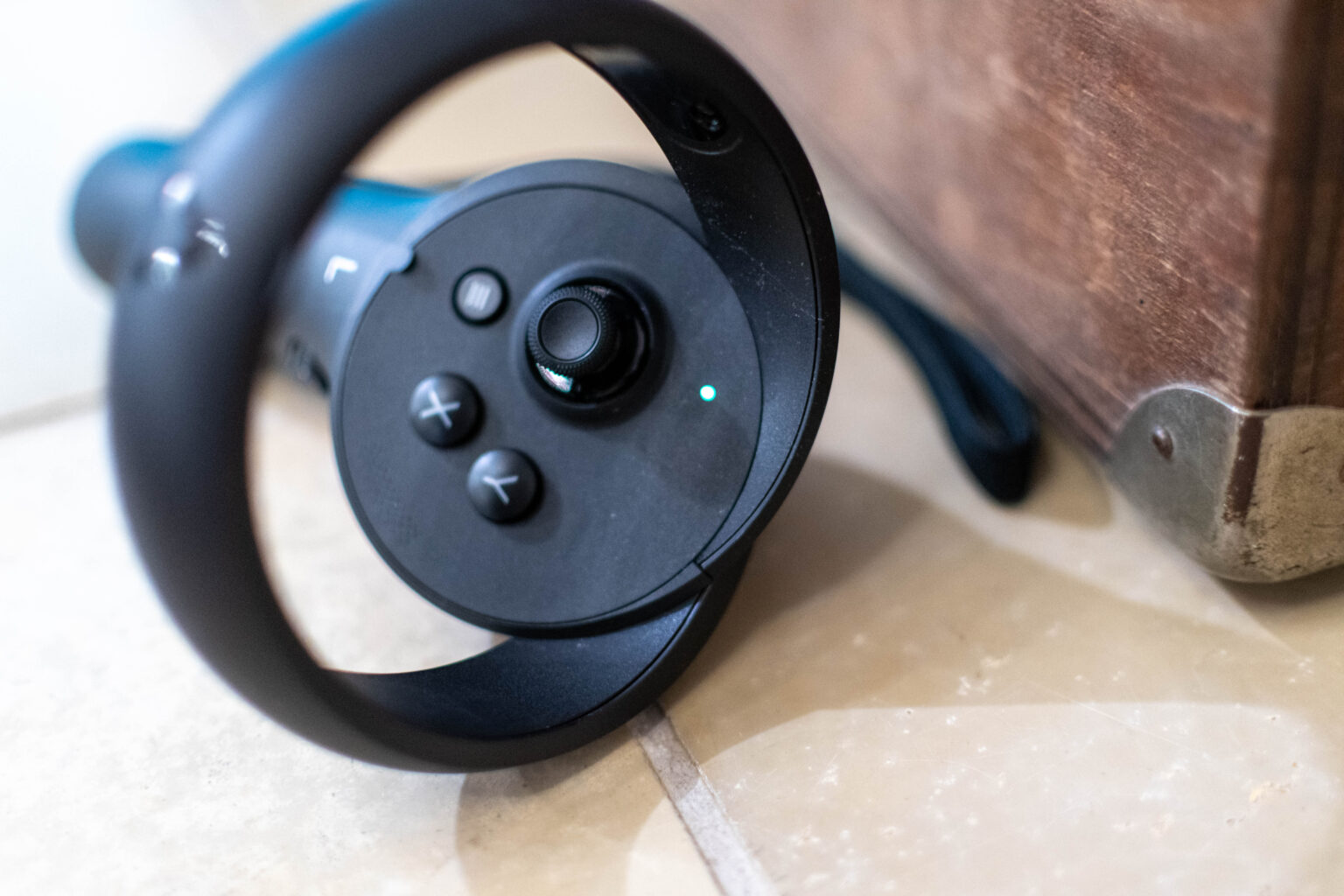 Games are really fun in mixed reality
And beyond that, the mixed reality is well implemented. For example, I played a reaction game. Fields light up, I have to press them. If I stood too far from the fields, they wouldn't trigger. The objects are thus firmly anchored in space. Another example: A painting app. The left hand contained a menu to change the brush tips etc. Like a painter's palette. The right controller is the brush. And so I was then able to paint on the canvas as well as walk around my "works of art" three-dimensionally in space.
The same applies to a shooter. The bad, bad aliens came at me from portals that were at different distances from me. The impression was very immersive and was enhanced by the mixed-reality environment. Like I said, it's really fun. The VR glasses have a depth sensor, which was not active at my appointment. However, it is planned that it will be used later, for example, to let objects bounce off walls realistically. However, I was not told when that would happen.
Power supply also possible via USB-C
I couldn't really get used to controllers in VR. They are not really intuitive in many situations. But what good is it: you can't do without it at the moment and I've gotten used to it so that I can use it well. In this case, they respond precisely and quickly. The Vive XR also has hand tracking. This works quite well, at least for slower movements. With really fast finger movements, it didn't quite follow the movements.
Power is supplied by an integrated battery, which according to HTC supplies the Vive XR with power for around two hours. Even longer sessions are possible. The battery can also be removed. Instead of a little more than 400 grams, the Vive XR then only weighs 250 grams and can be worn like normal glasses. The power can then be supplied via a power bank, which you connect via USB-C.
At the start, around 100 apps should be available. If you already have apps for the traditional Vive, you can stream them to the Vive XR. You will then need a USB-C cable for this. Thanks to WiFi 6E, this should also be possible wirelessly with low latencies. I wasn't able to test how well this works in the end. But we will keep that in mind for a later test.
Not unimportant: the glasses are very comfortable to wear. With the battery, it sits well balanced on the head and feels significantly lighter than the 400+ grams. The same applies to the second mode. It sits well on the head even with an external power supply and I never had the feeling that it slipped over the tip of my nose.
Last but not least: How much does the fun cost? It's not a bargain. Absolutely not. HTC would like to see 1399 euros* from you for the Vive XR Elite. In return, you get an excellently made toy that, even at the risk of repeating myself, is really a lot of fun.
We'll be taking a closer look at the Vive XR Elite in the near future. If there's something you're particularly interested in about this, let us know in a comment.