Smartwatches from Huawei are considered some of the best models for Android smartphones, but with the Huawei Watch D, the manufacturer is venturing into new territory: that of sporty smartwatches with medical claims.
WE LIKE THAT
Unique and accurate blood pressure measurement

ECG

One-week battery life

wearing comfort

sports modes

variety of sensors

app operation
WE DON'T LIKE THAT
No LTE

No app store

No voice assistant (except on Huawei smartphones)

The form factor for smaller wrists
But what about the medical claim? Well, the Watch D is officially approved in Germany as a medical device for measuring blood pressure. In addition, it is also a fully-fledged smartwatch with sophisticated features.
We looked at how the Watch D performed in everyday life and in sports.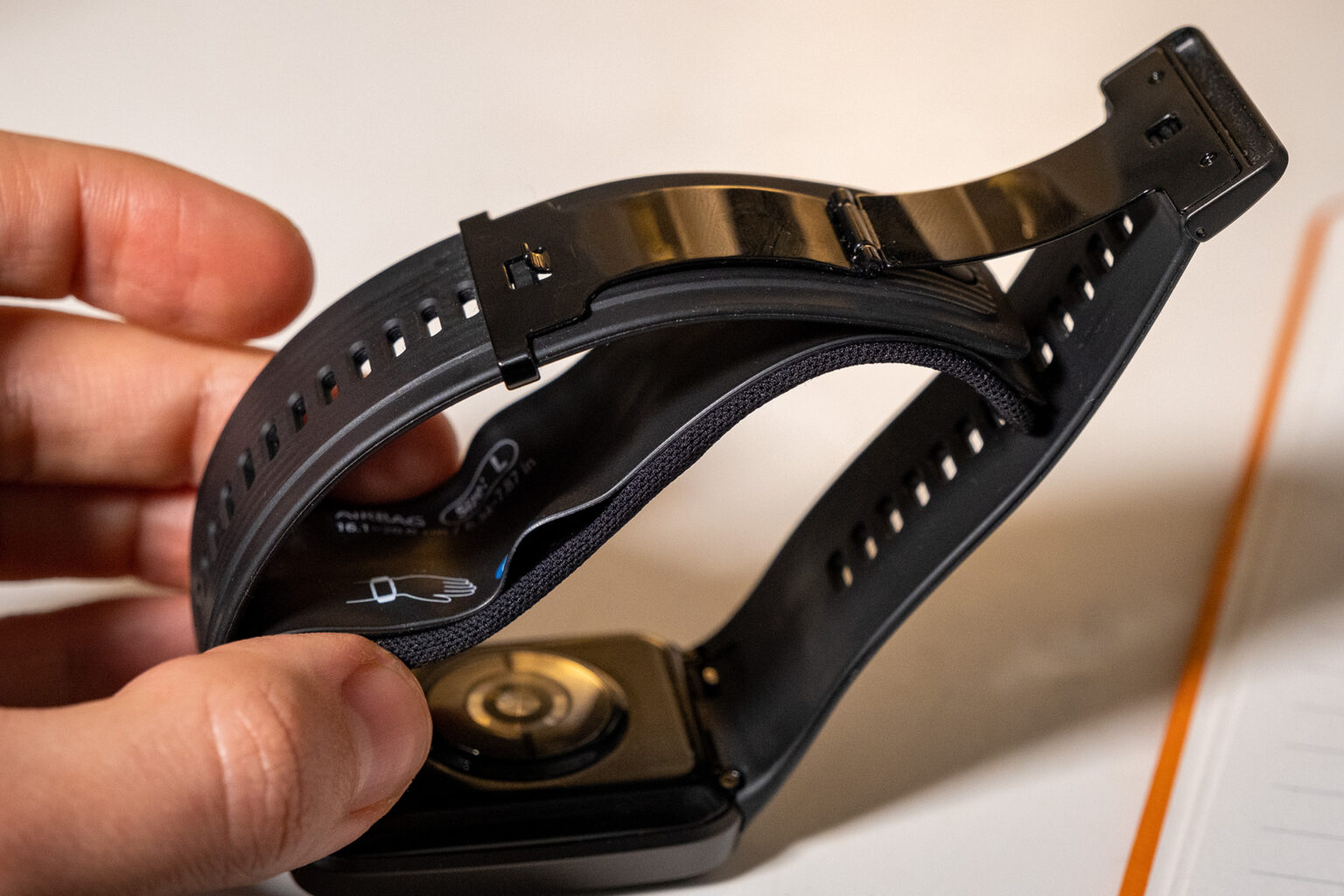 In the basic configuration, it costs €399, and – spoiler alert – it can definitely be recommended for that. At least if you fit into a few special requirement profiles: For example, if high or low blood pressure already runs in your family and you don't want to carry around large blood pressure devices with you. Then there is no alternative to the Watch D as an all-in-one smartwatch.
Even if you do a lot of sports and need a smartwatch for your hobbies AND everyday life, the Watch D could fit your profile. In addition to the precise blood pressure measurement, an ECG is also installed to measure heart irregularities. In addition, your sleep can be tracked and scientifically evaluated. In contrast to other Huawei smartwatches, however, contactless payment, LTE, and some other convenience features are missing.
Design, materials & comfort – high-quality feel meets a special form factor
Huawei smartwatches are often slim and stylish, such as the Watch GT3 (Pro). The design of the Watch D, on the other hand, is a bit out of line. Instead of being round and narrow, it has a high, rectangular case. Admittedly, the look is a matter of taste. Depending on the wrist, the not-exactly small smartwatch could quickly look clumsy. In my case, the size is just about right, but Watch D would no longer be narrow enough for my girlfriend. This also has to do with the width of the bracelets, which measure almost 3cm.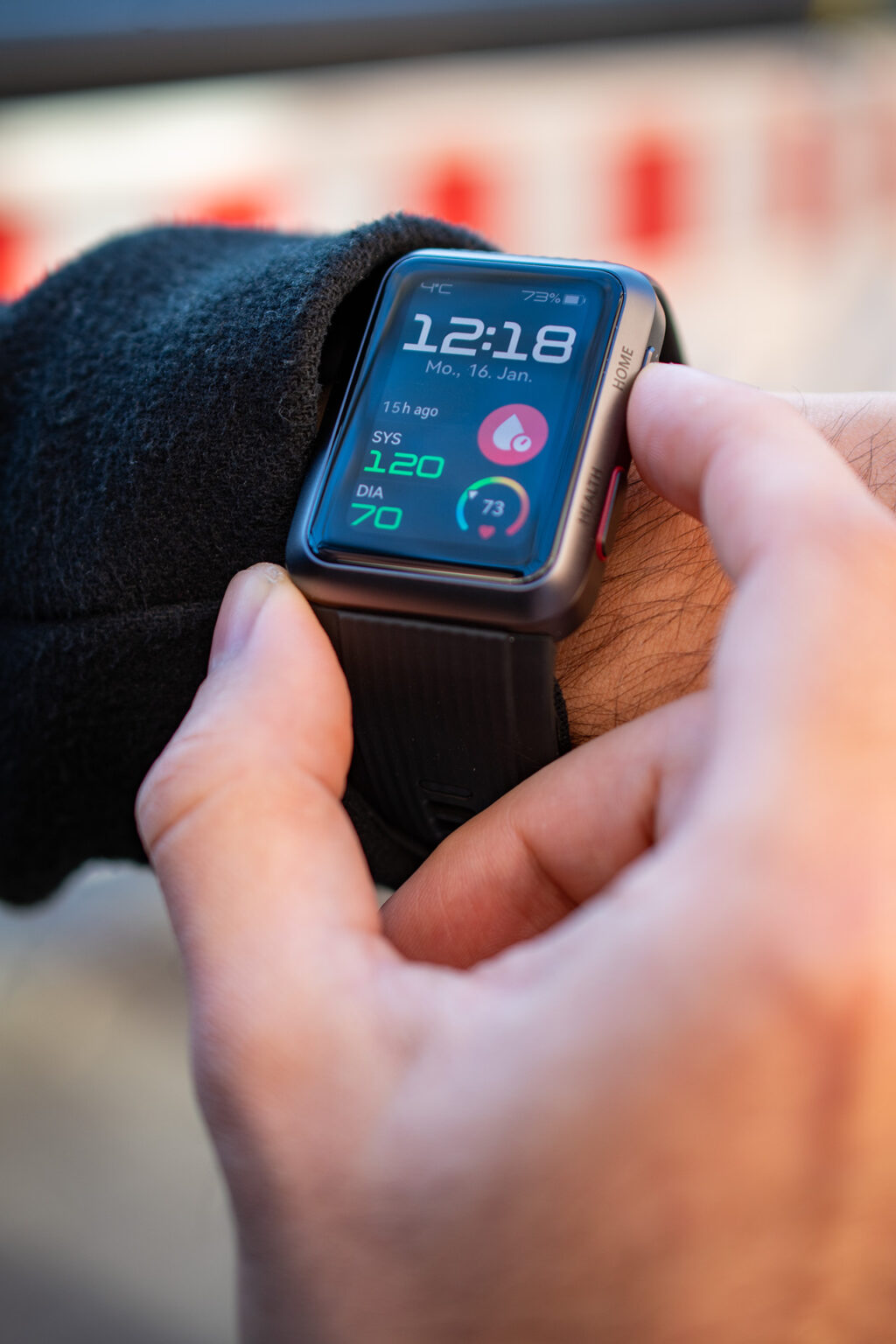 The processing is right for that. The housing is made of high-quality aluminum and is IP68 certified and waterproof up to 5 ATM. So you can easily go to the swimming pool and turn your lanes with it. Extensive sweating and trips to the desert are also possible thanks to the dust resistance.
The wearing comfort is consistently at a high level. Whether in everyday life or during sports, Watch D (almost) never bothered me. The comfortable silicone wristband also contributes to this. It fits like a glove – and it has to. In contrast to other Huawei smartwatches, the Watch D is only available with this type of bracelet and in one size (51mm).
Battery life – One week is in it
For this test, the Watch D was subjected to an everyday scenario with daily blood pressure measurement, permanent heart rate display, sports twice a week, and an ECG and one-time sleep tracking. The configuration otherwise corresponded to Huawei's default settings. That means: No always-on display, but a screen that starts when you turn your wrist. In addition, a tidy dial with all important displays and a black background.
In the test, I got around eight days with the usage scenarios mentioned. Intensive use during sports with a lot of GPS further reduces the battery life. If you have the always-on display off, four to five days are practically always there. This is significantly more than is possible with a Galaxy Watch or Apple Watch.
If the battery is empty, you can then refill the watch with electricity using any wireless charging pad. Of course, one is also included, which also holds the Watch D in position magnetically. If you only charge your watch for a short time, 15 minutes is enough to fill the battery to almost 20%. That will get you through the day solidly.
Use, operation, and performance – ideal for sports and data fans
The operation of a smartwatch stands or falls with its app. And here you can see that Huawei hasn't just been offering smartwatches since yesterday. Even the initial setup runs smoothly, as the app guides you through the process.
Also on the Watch D itself, you are sometimes offered instructions for functions. The watch is usually operated via the sharp and 1.64" large OLED display or the two side buttons. You can adjust their assignment in the app for you. Normally, the top button leads to the watch's app menu and the bottom button starts the main feature "blood pressure measurement". Otherwise, you navigate using swipe gestures. To the left it goes back, swipe up, then the settings will open.
Overall, the watch menu is nice and snappy, and direct. But: Not quite as fast as in the Watch GT3 Pro, for example. Nevertheless, it remains fast enough not to be annoying in everyday use. Incidentally, Huawei does not provide any information on the built-in processor, which might have something to do with the innovative measurement sensors (top secret and such).
Software & Features – Loads of modes for sports fans, strong sensors, and a few missing features
In the watch menu, you can then choose your own from more than 70 different sports modes. Just make sure beforehand that you have set your weight and height correctly in the Huawei Health app, otherwise, there will be fabulous values ​​for the calories burned. Another note that applies to all smartwatch manufacturers: Why are there various boxing modes (free sparring, boxing) when you can hardly get the gloves and watch over your wrist? Otherwise, almost every individual and team sport is offered on the Watch D, and various dance modes and winter sports are also included. Only special martial arts, where a watch on the wrist would be more than a hindrance (Brazilian Jiu-Jitsu, Judo, wrestling), are missing. For this, you should rather rely on a chest strap.
Whether it was a warm-up or a more intense workout, the sensors on the Watch D always gave me the feeling that they could react to the smallest changes in training when I looked at them. The heart rate was always displayed correctly and the ECG also worked perfectly. Body temperature and blood oxygen content can also be displayed. However, you should wait a few minutes after exercising before measuring the latter.
At the end of the training, the Watch D also offers the option of displaying your rest time graphically – nice.
It also gave valid and meaningful results for sleep tracking. Deep and REM sleep phases are tracked and can then be viewed in detail in the health app. Just a little creepy: The watch can use your phone's microphone (and thus via the Huawei Health app) to record your noises while you sleep and save them in the categories "talking in your sleep" and "snoring". In my case, however, nothing was saved – which is certainly related to my confidentiality training in secret agent training – oops, so much for that. 😉
Breathing exercises and measuring the stress level can also be started directly on the watch. There are also the classics such as music players, weather, stopwatch, and flashlight.
So the app is actually pretty extensive ؘ- it's just a bit annoying that some of the additional functions are hidden behind a subscription model.
Huawei calls it Health+. It offers more features like fitness classes and even more breathing exercises. HUAWEI describes it somewhat (too) flowerily as a "fitness trainer for your pocket".
Health+ also lets you export portrait or landscape format videos of your running route on a 3D map. The latter is already included in the Huawei Health app. While this is and remains free, Health+ costs EUR 7.99 per month or EUR 59.99 per year. When you buy the Watch D, you get three months of membership for free.
You can do that if the premium services are really worth it. But for me, it at least has an aftertaste when a €400 expensive device comes with a subscription model. And you are often directed to paid content via a small sticker in the Health app menu – uncool.
But enough complaining and on to THE core feature and unique selling point: the blood pressure monitor. This works via small air cushions in the bracelet. They inflate themselves and measure your blood pressure. However, you must also stand/sit still and have rested a little beforehand. Otherwise, the results are ambiguous. In addition, your arm must be put on and the Watch D must be held at heart level. The measurements could be reproduced within a controlled framework, which speaks for their accuracy. There is also a guest mode for friends who just want to measure. According to Huawei and various medical licenses, the Watch D can replace a professional blood pressure monitor – strong and unique for such a compact smartwatch.
What is also noticeable in everyday use: The very good vibration motor. It's tempered just right to notice messages or calls in time without making your hand vibrate. With many smartwatches from other manufacturers, however, the strength is either too high or too low.
But unfortunately not prominently included: A loudspeaker. On the watch, you can only reject calls or answer them with a message. You can't make phone calls. The short answers can only be adjusted in the Health app.
The voice assistant is also reserved for Huawei smartphones. On the other hand, there is no Alexa or Google and since there is no app store, no other programs can be installed. However, you can change the watch faces and buy more in the health app on your smartphone. Alternatively, there is also a large selection of free skins, which in my opinion are in no way inferior to the paid versions.
In short: the operation and app are good, but lack some functions – such as a speaker for phone calls – compared to the Watch GT3 Pro or the Galaxy Watch 3. The sports modes and sensors are convincing across the board. There is currently probably no smartwatch that can compete with the Watch D when it comes to collecting health data.
Conclusion on the Huawei Watch D – there can be no alternative
The Huawei Watch D is therefore a smartwatch for sports and health fans. Anyone who sees this as a priority when buying a smartwatch can hardly avoid Huawei's latest prank. I personally like the design, but compared to other modern smartwatches and fitness trackers it is designed for larger wrists. This also has to do with the large number of sensors and the special bracelet.
Through them, the Watch D continues to deliver data. Measuring blood pressure in particular is really impressive and the ECG can also do something. Huawei's usual good sleep tracking function, comprehensive health app, and really good battery life complete the positive overall picture.
If you can do without blood pressure, ECG, and skin temperature, you are still better off with the Watch GT3 (Pro) or the Galaxy Watch 3. With the Watch D, you have to do without some comfort features such as LTE or a loudspeaker for making calls with the watch. There is also no app store on board.
So: If sport and health are your number one purchase purpose, then on to the Watch D. Otherwise, there are better alternatives for the average consumer.