Thick old building walls, expansive gardens, or remote basement rooms: There are many reasons for poor WiFi reception. It's a good thing that there is now a remedy in the form of mesh systems such as the TP-Link Deco X60. As the name suggests, these WiFi meshes lay a dense WiFi network over a wide area of ​​your choice.
This brings you a WiFi mesh
Who doesn't know it – you finally have the new console or the new PC in your own four walls and then have to wait forever for important updates. Poor WiFi reception can really spoil the fun of technology in the long run. It is all the more important that the full speed of your connection is always available here.
You simply connect mesh devices, such as the TP-Link X60, to your router and then place them throughout your home. Put simply, mesh systems are repeaters on steroids – but they offer a lot more.
A mesh network is actually its own WLAN with several nodes that "know" each other and send the connected end devices to the optimal node. If you as a user move to another floor or into the garden with your smartphone, tablet, or notebook, you will be seamlessly passed from one point to the next (roaming).
The nodes connected to each other thus route your signal along the shortest route to the central router/modem. With "load balancing", a mesh network can also deal with a flood of devices (e.g. at a party) by intelligently distributing them across multiple nodes. In the case of the TP-Link Deco X60, you can connect an incredible 150 devices to your WiFi mesh at the same time.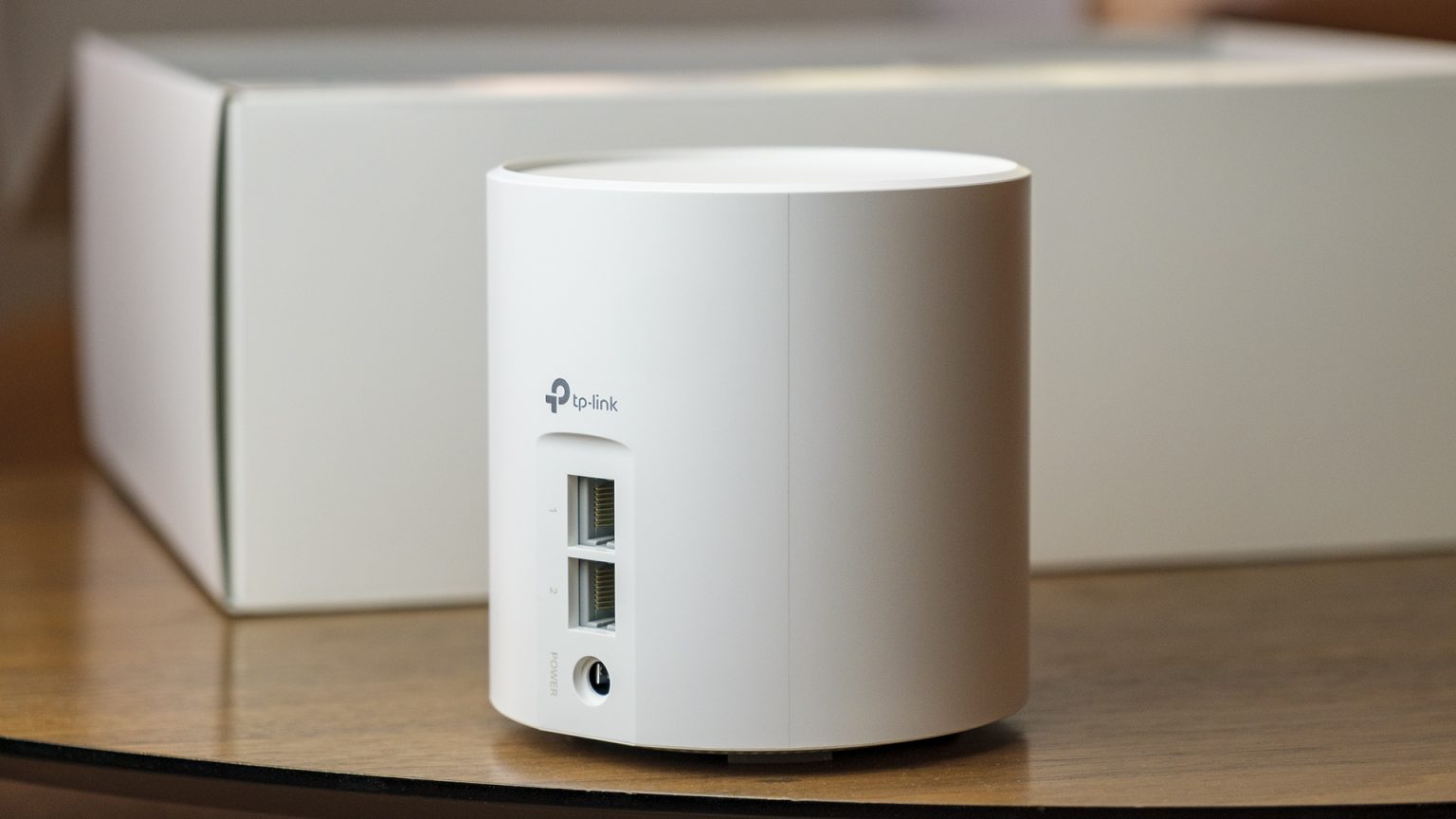 So you only have one area-wide WLAN with a uniform password. The mesh decides through which point and which frequency band you are connected. With the TP-Link Deco X60, you can cover an almost insane area of ​​up to 650m² and be connected continuously. The connection automatically switches to the nearest hub or from 5 GHz to 2.4 GHz if the high-frequency signal should become too weak.
Specifications: TP-Link Deco X60 Mesh Set
Technical data of the TP-Link Deco P9 WLAN Mesh Set




WIRELESS INTERNET ACCESS

IEEE 802.11 ac/n/a/ax 5GHz




IEEE 802.11 b/g/n 2.4GHz

connectivity

Mesh WiFi, dual-band WiFi, MU-MIMO, Powerline

transfer rates

2.4 GHz: up to 574 Mbit/s




5 GHz: up to 2402 Mbit/s

encryption

WPA-PSK/WPA2-PSK

connections

2x Gbit-LAN ​​on each satellite




(auto. WAN-LAN detection)

Range

650m²

compatibility

Deco series

Dimensions

110 x 110 x 114 mm (width x depth x height)

Price

€479.00*
Easy installation
Installing a mesh might seem daunting without the technical knowledge, but TP-Link really made the setup incredibly easy. The instructions are already on the inside of the box.
First, download the Deco app here:
Now turn off your modem. You then connect one of the three chic satellites to your router via a LAN cable and switch everything back on. You do the rest of the setup in just a few steps in the well-thought-out app. Incidentally, all three satellites are identical. So it doesn't matter which one you connect to your router.
You then simply place the other two in your apartment, your house, or wherever else you need WiFi in the area.
A status LED on the satellites tells you whether they are connected to the main transmitter. In the app, you can also look at more detailed information on the signal strength. You can also activate fast roaming here. This automatically ensures the fastest connection for connected devices.
You can also set up homecare. This gives you an integrated anti-virus solution co-developed by Avira and various setting options for parental control of the content. This is surprisingly extensive and lets you regulate the content of your WLAN network in four presets or manually.
You can also set priorities for your devices, for example, give preference to your home gaming PC over grandma's tablet.
Better latencies for all devices thanks to the new technologies of WiFi 6 (802.11ax)
Nevertheless, if desired, you will of course always be offered the maximum possible speed. As I said, these days you are no longer just using a computer in the home WLAN, but often operating a large number of smartphones, tablets, notebooks, and other end devices. WiFi 5 had a built-in bottleneck here, as each network channel could only serve one device.
MU-MIMO is not a child's first words, but an improved technology of the new WiFi 6 standard. This takes care of channel control and distribution on the TP-Link Deco X60. Multi-user multiple input, multiple outputs is not a completely new feature but was also used in WiFi 5. With WiFi 6, the bandwidth of your router can now be divided into up to eight channels at the same time. Previously there were only four. This significantly increases the downstream speed. The TP-Link Deco X60 goes from a four-lane data highway to an eight-lane one.
A really new technology is OFDMA, which can split each network channel into smaller sub-channels. This results in significantly better latency for all connected devices.
With the help of the individual OFDMA sub-channels, the TP-Link Deco X60 can significantly increase its own signal range. Up to 25%, additional signal coverage is possible. With this, you can finally defeat the poor WLAN reception in the basement. With the Deco X60, thanks to WiFi-6, you no longer have to do without your fast internet access at the garden party.
WiFi 6 brings high efficiency and protects the battery of your devices
WiFi 5 routers could transmit a maximum of 8 bits per second, while WiFi 6 models can send 10 bits per second to connected devices. With this increase in performance, you not only get a more stable line but also a decent boost in energy efficiency.
Thanks to a new sleep mode with Target Wake Time technology, your WiFi 6 router recognizes when data transfer is needed – and when it is not. All connected laptops, smartphones, or tablets benefit from improved battery life.
So you see: With the TP-Link Deco X60 you can make your internet faster, more comprehensive, and more convenient within your own four walls – and beyond. There are also a bunch of useful additional functions that can be operated very easily thanks to the very good app. In addition, your mobile devices can develop their full potential thanks to WiFi 6 – and even last longer. With its intuitive setup, the WiFi mesh is also suitable for absolute beginners and can be set up in two minutes.