Netgear not only brought new routers in stealth fighter design to IFA 2019 but also an update to their mesh system – Orbi. As a small surprise, there is also a digital picture frame with a subscription model.
Wifi standards have been very confusing in years past. Hardly anyone knows what "WLAN 802.11 b/g/n/ac" means and whether it is better than "WLAN 802.11 b/g/n/ax". This is exactly why future Wifi standards will simply have numbers. It starts with Wifi 6, which is the new name for the "ax" standard.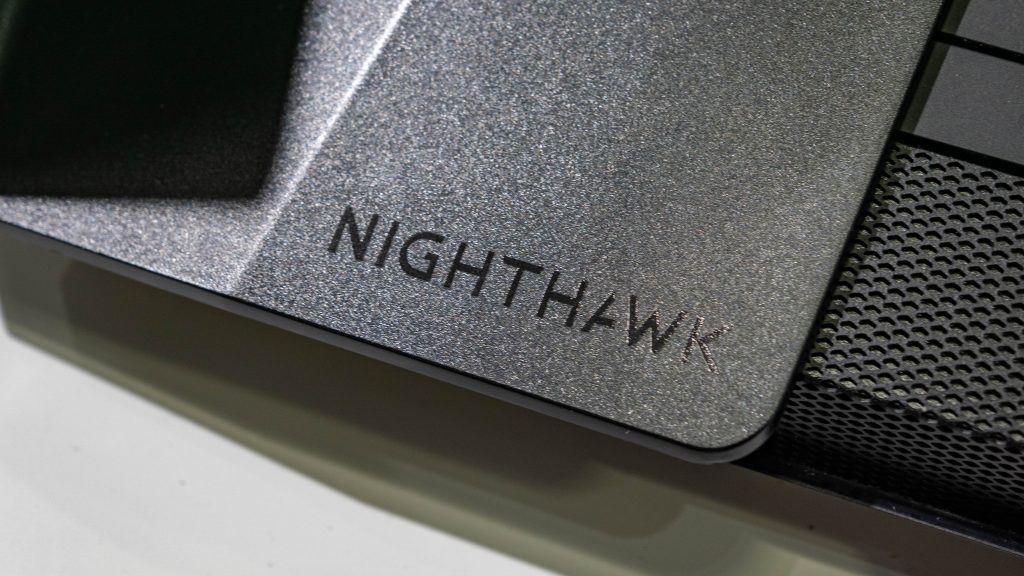 Thanks to Wifi 6, different devices are supplied with data at the same time. With previous standards, a few data packets were always sent to one device before the next device was supplied with data. But if you're watching a large 4K stream, you'll need more data faster than someone just scrolling through Twitter.
Netgear hat Wifi 6 Router
First, Netgear packs the new standard into their Nighthawk series. The abbreviation AX4,8 or 12 also makes it clear how many parallel streams of data are possible. There is also the Nighthawk AX12 Tri-Band Router, which then has two 5GHz networks and an additional 2.4GHz network.
Even if you don't have any Wifi 6 devices in your house yet, you're already benefiting from the new standard, since the pure assignment on the router side ensures a more constant stream of data to your end devices.
Orbi-Mesh System & Gaming Router
How much is good WiFi worth to you? Is it 1100€? No? Then Netgear's new mesh system – Orbi AX6000 – might not be the right system for you. On the outside, not much has changed compared to its predecessors, but under the hood, the new mesh system offers the same options as the new routers – Wifi 6. Three radio units are included in the scope of delivery. In November, a version with two radio units will come onto the market, which will then cost €800. I know that new standards are expensive at first, but the price seems a bit high to me.
The gaming routers that Netgear brought to IFA 2019 are not new. They are kept in the typical gaming look and their design is reminiscent of typical gaming hardware – angular and aggressive.
But they also offer some cool features like ping optimization, geo-filtering, and quality of service. The latter allows you to reserve a certain percentage of your bandwidth for your games. So your multiplayer game will never crash again because your roommate launches Netflix in 4K. Netgear's gaming routers don't have Wifi 6 yet, so you have to save something for next year.
Meural
At the IFA, Netgear also had something in its luggage that I absolutely didn't have in mind and didn't expect – a digital picture frame. Okay, it's a bit more than that, but at first glance, you could call it that.
Meural is aimed at art lovers and fans of photography. At its core, Meural is a 21.5-inch or 27-inch Full HD screen that shows you various images on an IPS display. This has glare protection. It is controlled via an app. The images themselves are selected by a curatorial team in New York. In addition, Meural has Alexa support, and gesture control and can be used in portrait and landscape formats. Additional information about the image is available at the push of a button.
When purchasing, there are around 150 pictures to choose from or you can import your own holiday pictures. For a fee – currently just under $50 a month – buyers can access up to 30,000 works of art. Netgear sees Meural as the Netflix for picture lovers, so over time the app learns what you like and makes suggestions accordingly. It will also be possible to buy single images only.
The 21.5-inch version from Meural starts at €649. Depending on the frame, the price can increase to €699. The larger 27-inch version of Netgear's art Netflix starts at €799 and those who value a special frame can also pay €849. The subscription is not included in any version. Incidentally, the images are stored on an 8GB internal memory and can also be enjoyed without an Internet connection. Wifi 6 is not included.