The fast SSD interface PCIe 4.0 has hardly been used by any program or software so far. Nevertheless, with PCIe 5.0 the even more fixed successor generation is just around the corner. The Crucial T700 is one of their first representatives. In the test, we found out whether and for what purpose the fast data rates are worthwhile.
The Crucial brand has always been synonymous with some of the best SSDs on the market. Logically, the parent company Micron is one of the main producers of memory chips – and the company naturally saves the best for its own brand.
With the T700, Crucial's fastest SSDs to date now come in three sizes: 1 TB, 2 TB, and 4 TB. The MSRP is a whopping €197.53, €372.46, and €656.87 respectively. In times of significantly falling memory prices, these are not exactly bargains. But maybe justified for the high-end sector?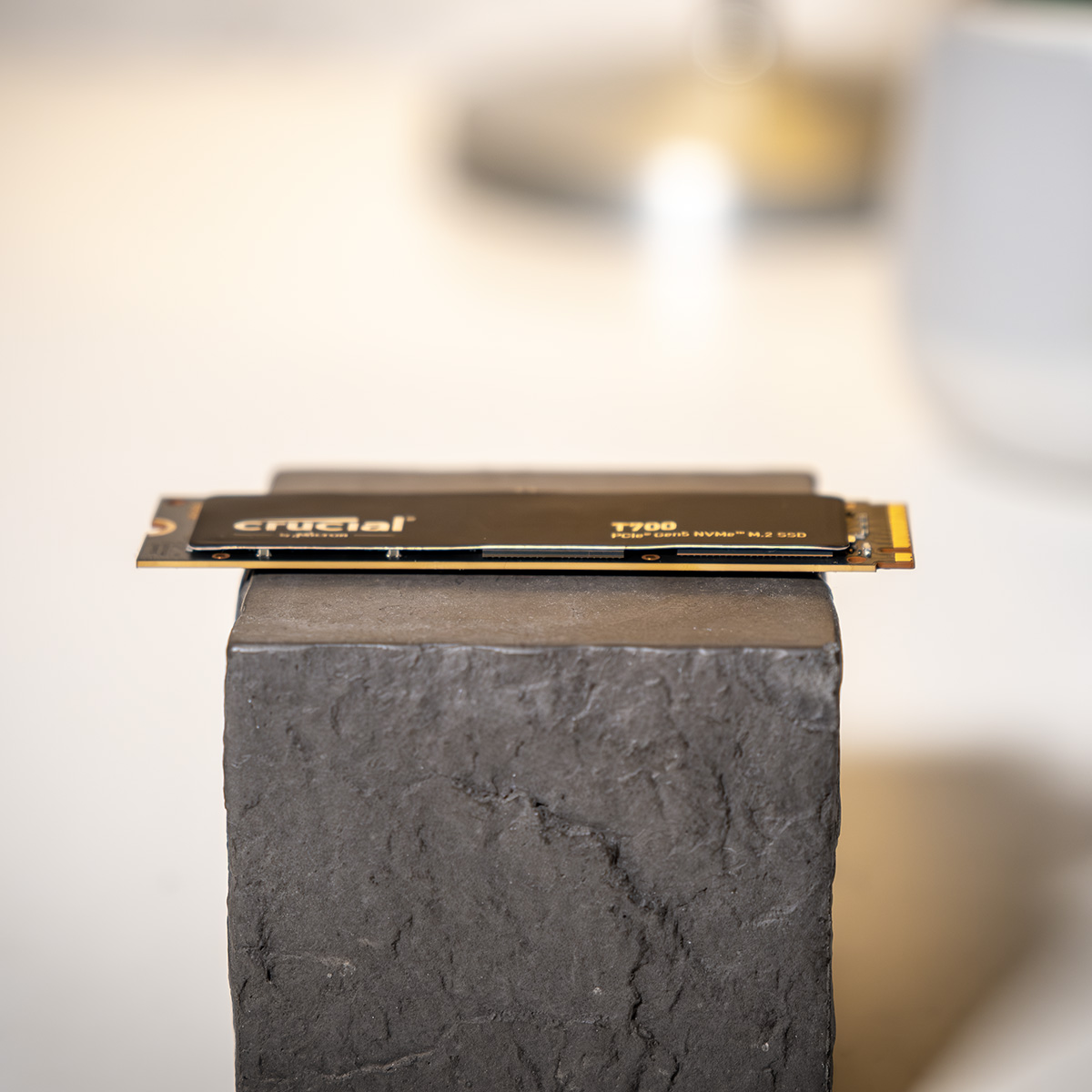 To find out, we grabbed the middle ground at 2 TB and put its full-bodied promises to the test in benchmarks.
Lots of superlatives and two crucial questions
But what exactly do they look like? Up to 1.8 times faster than PCIe 4.0 and even 3.6 times faster than the previous generation PCIe 3.0 – these are real leaps in performance. PCIe 5.0 performance is currently reserved for the latest Intel (12th & 13th generation) and AMD Ryzen 7000. All others can also block the T700. It is in fact completely backwards-compatible with its predecessor interfaces. So you can also buy them with older mainboards and use them normally – until you plan a major upgrade to the new generation.
How Crucial manages to set up such storage superlatives? With a new type of 232-layer NAND flash memory in TLC design and a Phison E26 controller. Definitely impressive and nice to see that storage technology is being developed more and more.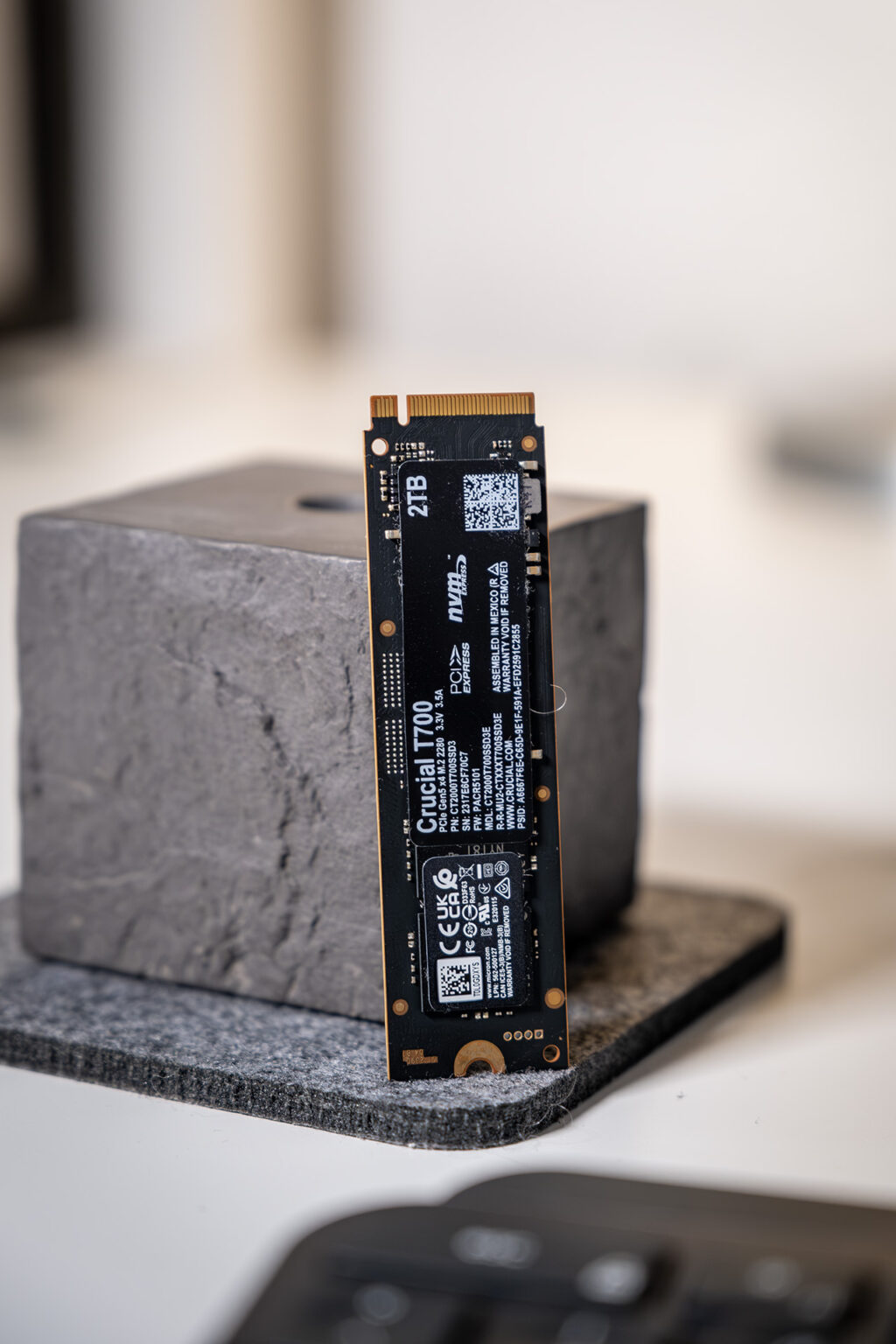 But… do you really need that at the moment? After all, hardly any application takes advantage of PCIe 4.0 speeds. Well, that could change in the future. Because upcoming triple-A games could rely on direct storage. A technology that requires fast access times from SSDs in order to bring game content to your screen. Especially with gigantic open worlds and Unreal Engine 5, this could become very relevant in the future. So far, however, there is only one game that supports the new technology: Forspoken. Square Enix's open-world RPG was only moderately received by critics and fans and, despite the new technology, hardly offers any performance advantages with particularly fast SSDs.
Another limitation: To date, there are only a few mainboards with a real PCIe 5.0 slot for an SSD. Only Ryzen 7000 mainboards usually have one, while many current Intel mainboards do without it. So look at the fine print and make sure that the popular "PCIe 5.0-Ready" lettering also applies to the M.2 slot. In most cases, the new interface is only shown for the graphics card connection via PCIe x16.
To heat sink or not to heat sink?
You can get the T700 with or without a heatsink. We tested the latter variant because our test mainboard already has a heatsink. If you want to install the SSD in a PlayStation 5, you should definitely get a version with a heat sink or alternatively get an SSD heat sink from a third party. As a result, the heat generated during high loads is better dissipated. In addition, the SSD can run longer at its limit.
Note, however, that the T700 can only run as a PCIe 4.0 SSD in your PlayStation.
With gaming PCs, you also have to ask yourself the question of the heat sink. In many modern mainboards, a pre-installed heatsink on an SSD must first be removed, since the mainboards use their own cooling solutions.
This is also the case here: The Gigabyte Z790 Aero G is one of the few Z790 boards to have a dedicated PCIe 5.0 slot – including a massive heat sink and cooling pads for M.2 SSDs. The heatsink position, directly in the airflow of the Fractal Design R6 housing used, ensures optimal cooling.
Performance – The fastest SSD tested to date*
So let's first take a look at the advertising promises: The 2TB variant of the T700 should be able to read up to 12,400 MB/s. Although such information is always slightly optimistic, we can largely confirm it here. Crucial delivers the promised values ​​in the typical benchmarks.
Crystal Disk Mark is the ideal case – your SSD can be that fast if all conditions are optimal. Ultimately, however, these are also the values ​​that are least relevant in everyday life.
AS SSD, on the other hand, covers the other extreme. The SSD is put under a lot of loads here and has to read or write many small files in various sectors. Here, too, the T700 takes the lead – but the lead is much narrower.
The field closes significantly in the copy benchmark and the previous generation PCIe 4.0 can achieve two notable successes in the form of the Samsung 990 Pro, the WD Black SN850, and the Crucial P5 Plus. The Crucial T700 has to admit defeat when it comes to copying game files as well as the application part of the benchmark. Nevertheless, we are still talking about very high-performance values ​​here – only exceptionally not the best in class.
When copying in everyday life, slight hiccups sometimes also come to light. There are sometimes stronger fluctuations when copying large amounts of files. In sequential writing, however, there is an all-around significant jump in performance for the new generation.
Temperatures & wear: Solid lifetime can be expected
The temperatures were absolutely within limits with the mainboard heat sink and reached a maximum of 67°C for the controller and 65°C for the memory modules in benchmarks. This is still well below the temperature-related throttling of 70°C. The models with a dedicated heat sink should have similar values ​​or even be a little better.
If you install the SSD without a heat sink, it is at least conceivable that a temperature limit will apply in benchmarks. Temperature problems should be less common in everyday life, but I would not recommend using the SSD without a heat sink.
When it comes to promised longevity, Crucial is about on par with the competition. That means: With the 1 TB version you get a minimum runtime of 600 terabytes written (TBW), while the 2 terabyte version still manages 1200 TBW. The top model with 4TB comes – math geniuses spot a pattern – to 2400TBW.
Conclusion: Future-proof until…
The Crucial T700 is by far the fastest SSD we've tested… BUT: It's so fast that its speed has hardly been noticed so far. Unless you are constantly moving gigantic amounts of data. On the other hand, if you are primarily looking for a fast gaming SSD, then-current PCIe 4.0 SSDs – such as the Crucial P5 Plus – offer significantly better value for money.
In addition, the use of the Crucial T700 has so far been limited to relatively few systems, at least if you want to operate it at its limit. Because only current Ryzen 7000 boards come into play and a few selected Z790 boards of the 13th Core I generation from Intel. All others must use the T700 in PCIe 4.0 or 3.0 mode.
Despite the limited field of application, the T700 is an impressive piece of technology, as it pushes the limits of what is feasible with SSDs up again.
This makes it suitable for a few use cases: You want ultimate future security and want to build a system for several years. As a system SSD, it has to be the absolute fastest and best out there to avoid a potential direct storage bottleneck in future games. Or: You are planning to upgrade to a Ryzen 7000 or Intel Core 13XXX system within the next few months and want to make provisions for storage.
As I said, everyone else should look towards PCIe 4.0. What do you think of the fast piece of technology that Crucial has shown us here with the T700?
Write it to us in the comment section.