Motorola has unveiled its fourth generation of Razr smartphones, aiming for the crown in the foldable smartphone category.
Motorola has been working on its Razr smartphones for several years now, trying to rekindle the joy of compact and foldable smartphones. The first models were not a hit. The fourth generation now comes with two different models and seems – according to the datasheet and first reports – to be much rounder.
Motorola Razr 40 Ultra
Starting today, the Motorola Razr 40 Ultra (also called Razr+ in other parts of the world) is available in Europe. Here, Motorola installs fine technology: As leaks already revealed, there is a 3.6-inch pOLED display (1066×1056 pixels) on the front. It is significantly larger than the competition and can also be used much more freely: YouTube, WhatsApp, surfing the Internet, there are no artificial limits here. There's even a – usable – keyboard on the external display.
Once unfolded, you are greeted by a flexible 6.9 inch interior display (2640 x 1080 pixels) with a fast refresh rate of up to 165 Hz. There is also a "small" front camera with 32 megapixels. The hinge has been revised and should now be much more flexible to adjust and also significantly reduce the crease in the middle of the interior display. In addition, the smartphone is now protected against splash water and dust according to IP52.
The cameras on the back have also been revised and there is now a main camera with 12 megapixels (f1.5 aperture) and an ultra-wide camera with 13 megapixels.
Inside is a Snapdragon 8+ Gen 1 from Qualcomm and 8 GB of RAM. There is 256 GB of storage space, which unfortunately cannot be expanded. In addition to a "classic" SIM card, a second eSIM can also be used here. The battery is 3,800 mAh and can be charged wirelessly or via a USB-C cable.
The Razr 40 Ultra is available in the colors Infinite Black and Glacier Blue and then has a frosted glass back. There is also a special edition called "Viva Magenta" with a bright vegan leather back. No matter which colors you choose, the Razr 40 Ultra costs 1,200 euros and is therefore on the same level as the competition.
Motorola Razr 40
The "normal" version is a bit slimmed down compared to the Ultra, but some components have been retained.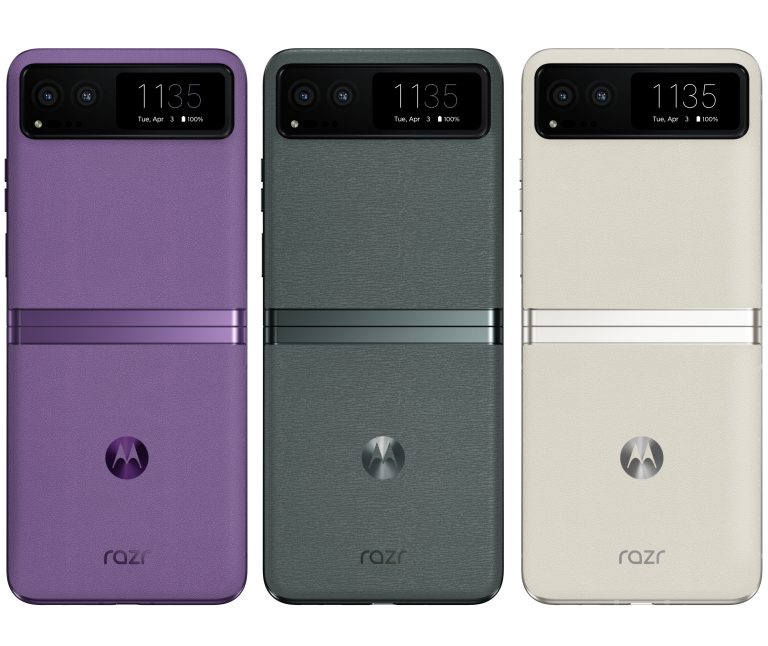 The external display has been shrunk to 1.5 inches and thus no longer offers as many applications. The pOLED interior display is almost the same but only reaches 144 Hz. Inside, there is now a Snapdragon 7 Gen 1 with 8 GB RAM and 256 GB storage space. However, due to the smaller external display, the battery could be increased to 4,200 mAh.
The main camera is different from the Ultra version and has a resolution of 64 megapixels. But there is also the same ultra-wide-angle camera.
The Motorola Razr 40 is scheduled to appear in mid-July for around 900 euros and will be available in cream white, green, and purple. The back of all models is made of vegan leather.
Both variants of the Motorola Razr 40 are said to ship with Android 13 and receive three Android upgrades and four years of security updates.
What do you think of the Motorola Razr 40 (Ultra)? Let us know in a comment.